Well its that time of year again! Christmas is just round the corner and we are all hunting for bargains that we actually need! To be honest i can not believe its December already! I have hand picked some of HealthCare4All's best sellers in case you still have not found what you are looking for!
We have had a fantastic year, researching and sourcing some amazing products. We also launched our brand new website! So, be sure to take a look! I always research the best products before selling them so you can assured of the best quality items from a team that always give 110% to make sure our customers are happy.
HealthCare4All are always searching the globe for the BEST products that are not going to break the bank! We have found an amazing gadget that will rid your children of LICE AND NITS and we have been ITCHING to tell you about it! Its called the LiceTec V Comb and We are also the UK Distributors!
Why is it so amazing?
Unlike most products on the market today, the LiceTec Comb removes both Lice AND Nits. It is completely safe & extremely easy to use. It works by vacuum, so there is no risk of an electrical current to the user or the patient.
You can actually see the lice and nits getting sucked into the illuminated filter so you KNOW that you have caught them! This eliminates the guesswork you have from other products. It even works on Lice that are resistant to chemicals which is becoming a worldwide problem called SUPER LICE!
It can be used as many times as necessary which a major reason we love it so much. The alternative is using lotions that cost £10- £15 and can only be used once! The LiceTec V comb is only £49.98 from healthcare4All!
What we also love about the LiceTec V-comb is that after it has sucked the lice and nits into the filter, you simply put the cap on and throw the filter away and you KNOW they have been safely disposed of!
As it is a registered medical device, it is marked with CE & FDA approved to give you peace of mind that you have a quality product!
We like to test our internationally sourced products and one thing that we suggest is that Technique on how to use the Comb is important. So please take a look at the instruction videos below.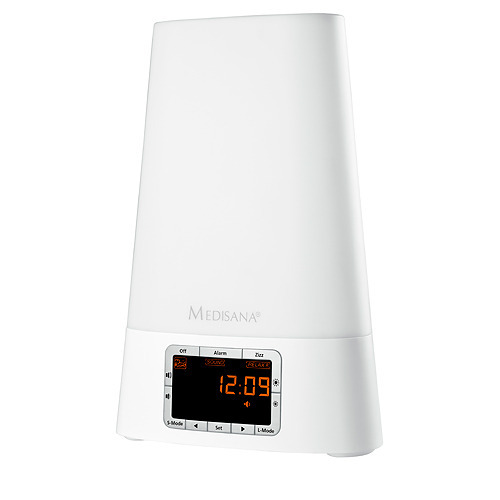 It has 2 adjustable alarms with MP3 player connection.
Relaxed wake-up with artificial sunrise: gradually increasing light for 30 minutes before your wake-up
Large, easy-to-read display with dimmer function (adjustable light and dark)
Colour-changing wellness light with 7 colours
Long-lasting, energy-saving LED lighting
Integrated radio
8 natural sounds with increasing volume
Snooze function and zizz (snooze) button (extra timer for alarm after 15 to 90 minutes)
The Panasonic Dentacare range of oral irrigators have an incredibly good record of reliability and the new model, EW-DJ40 has arrived!!
With their usual heritage of strict quality control and factory testing we are confident the new model will more than live up to the reputation we expect from Panasonic.
Now, instead of having a separate charger base, the EW-DJ40 has an integrated charger.
Simply plug the lead into the access port on the side (designed to be fully water proof) and allow to charge.
The tank volume has been increased to 165ml and the whole unit condenses up when not in use – it measures 142mm (height) when closed and 218mm when expanded and in use.
This product has been designed to give years of good service – rechargeable battery life is expected to be around 3 years, depending on use and storage
Easy to grip & easy to fill with water – 165ml tank volume
Fully waterproof and washable
Built-in nozzle storage space
Nozzle is hidden when unit is condensed for storage
Charge indicator light on top of unit
Now fully charges in only 8 hours
One full charge provides around 15 minutes of use
Full tank of water will provide around 40 seconds of use between re-filling
Suitable for use with mouthwash
2 mode settings:
NORMAL – for removing particles, massaging gums and rinsing between teeth and gums
SOFT – for gently massaging the gums or when normal is too strong
Powerful waterjet removes food debris and massages gums. Removes the bacteria that cause plaque, but irrigation is not a substitute for brushing
An amazing NHS Recommended, CE & FDA approved product we found for the treatment of cold sores. Its called the VIRULITE COLD SORE MACHINE and as soon as I listed it on amazon the 5 out of 5 reviews started rolling it!  £79.99
What is it and how does it work?
Original Cold Sore machine made by Virulite

VCS1 Stops Cold Sores in their tracks when used at the first sign
Helps your skin to defend against the attack of the Herpes simplex virus
Uses Passive light invisible to the naked eye. Stimulating your body into reacting to the Cold Sore virus
Proven to work over and over. In some cases, the use of this machine prevents future attacks
Its developers claim that it  heals cold sores twice as quickly as using an antiviral cream.
Virulite is thought to increase the immune response to the virus

Tiny travel nebuliser – less than 3 inches tall
Closed top medication chamber – add medication and it won't leak out (unlike most other models)
Low power consumption (<1.5W)
Virtually-silent operation – ideal for night-time, or when you want to be discrete
Operates on 2 x AA batteries
Very economical replacement accessories (over 50% less than brand leader)
All accessories in stock for immediate despatch
Average battery life: 4 days based on 20 minutes per day of usage
Can be used from integral mouthpiece or supplied mask
Can even nebulise high-viscosity solutions – nebulisation will be reduced
Simple to use – one button operation
Nebulises to the last drop, and minimises medication wastage
Lastest mesh technology – using Excimer laser technology, the traditional problems associated with meshes such as clogging, breakage, corrosion and high power consumption no longer exist
The new Omron Body Composition Monitor "The Family Model" is available in stylish turquoise (BF511T) and royal blue (BF511B). It measures body fat percentage, skeletal muscle percentage, visceral fat level, skeletal muscles, BMI and resting metabolism. After each measurement an interpretation is displayed for all values.
The categorization of this product as a Medical Device and the clinical validation highlights the accuracy and reliability of "The Family Model". OMRON´s flexible handheld with big screen and push-buttons ensures a very smooth and easy operation. "The Family Model" gives all family members the opportunity to professionally monitor their Body Composition.
Product features:
Body fat and classification
BMI and classification
Skeletal muscels and classification
Visceral fat and classification
Resting metabolism
Clinically validated
Memory previous values
4 user memory
If none of these products excite you please do Take a look at our shop for some amazing products and get those last minute xmas gifts! www.healthcare4all.co.uk
Please follow and like us: